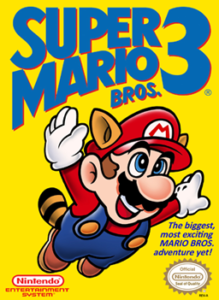 The Nintendo Entertainment System or NES, was the first home console system from Nintendo. Known as the Famicom in Japan (Family Computer), it was release in 1983 and changed home video games forever, not only elevating the level of sound and graphics, but bringing a level of storytelling to games that was something new at the time.
What are the most popular NES games? I've gathered data from Google and YouTube search results as well as the number of Facebook likes for each game's Wikipedia page to create the interactive table below. Each column can be sorted by clicking, and you can search for an individual title in the search box. As you might expect, the family of Mario Bros games are near the top regardless or which metric you choose. Perhaps a bit surprising is that World Games finds itself at the top of the list for Google search results. So are these the best NES games? There are certainly some classics in there, but keep in mind that just because people are talking about a game doesn't mean it's good.
Top NES Games
If you're looking to purchase one of these games, please buy through the eBay links above for a great selection of classic games. When you buy through these links, a percentage of your purchase will support my work at Retrified Games at no additional cost to you. Thanks for your support!
Similar Posts: